Uni promotes 'Sea Dreams' as artful way to support community
Published on 18 August, 2011
CQUniversity Gladstone has been a driving force for preparations as the Gladstone Region Festival of Arts prepares to showcase local creative talent with the Sea Dreams festival.
Festival coordinator and academic Dr Andrew Wallace has championed the initiative as a partnership between CQUniversity and the Gladstone arts community.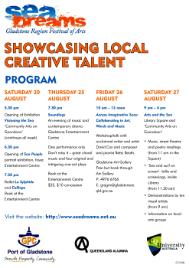 LINK for a larger program image
This Saturday, August 20, the festival kicks off in CBD locations with ballet (La Sylphide and Calliope) and two art exhibition openings (Visioning the Sea and Sea People) in CBD locations.
Next Thursday, August 25, Gladstone people can attend the Soundings musical show by Diana Maynard's choir, plus four contemporary one-act plays. Friday, August 26, features a workshop on art collaboration at Gladstone Arts Gallery. Then on Saturday, August 27, there will be linked events in Library Square and Community Arts on Goondoon.
Dr Wallace says the one-act plays for the Thursday (Aug 25) Soundings* program are an interesting mix of edgy drama, mystery, tender emotion and humour.
"All relate to the sea in some way but two also involve family life as it is lived today and two relate specifically to life on the Queensland," he says. "They have general appeal without being dumbed down. Cast members include senior CQUniversity staff, high school drama teachers, experienced local actors, university students and three very talented young teens.
"An interesting angle is that a real life husband and wife will be playing characters married to each other, and in another play the parts of a mother and young daughter are played by a real life mother and daughter."
Dr Wallace says the linked events on Saturday (Aug 27) will be in Library Square and Community Arts on Goondoon Street.
"From 11am - 1pm there will be some music, street theatre and readings of creative writing at the Square. Inside the library there will be talks about the sea on film and video, with short films and excerpts from longer ones.
"We are now looking at concentrating on surfing films and also looking at surfing music and culture generally. Dr Jeannette Delamoir from CQUniversity Rockhampton who has a doctorate in film studies and has worked at the National Film and Sound Archive in Canberra will attend.
"Some local surfing identities will be present and are negotiating with Alby Falzon to get permission to screen some or all of his celebrated surfing film Morning of the Earth. This will not be a heavyweight academic event but an informal talkfest; anyone interested in surfing should be able to participate in and enjoy.
"Meanwhile at Community Arts on Goondoon there will be demonstrations by at least eight visual artists, showing how it's done in all kinds of media from limestone sculpture to rice paper batik to cloisonné enamelling, with some opportunities for hands-on activity. This lasts from 9-4pm."
* Soundings is the main Sea Dreams event devoted to music and dramatic art. The music features the Maynard Singers. Adult and younger performers will present a miscellany of sea-themed song and dance. As well as solo items, there will be a performance of Ian Jefferson's song cycle From the Crow's Nest by a 30-voice choir. The drama is a suite of four one-act plays written and directed by Dr Andrew Wallace. The Glacier, Loggerheads, Between Two Storms and Unsinkable are diverse in mood, style and subject. They range between bleak irony, tender feelings, mystery and humour. They have in common originality and a concern with the way we live now, for instance family tensions and life on the Queensland coast.