Noosa's beauty leaves 'art-felt' impression on CQUni
Published on 29 March, 2012
CQUniversity has bolstered its commitment to the Sunshine Coast's thriving arts community by appointing distinguished academic and author Professor Donna Lee Brien to head two new creative industries programs at its Noosa campus.

Professor Brien, who recently relocated from CQUniversity's Rockhampton campus, said Noosa's natural beauty makes it an ideal location for the new programs.
LINK also to The wedding feast's an event not a cakewalk, says CQUni academic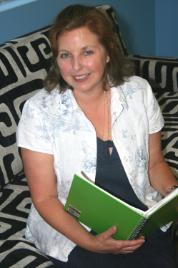 Distinguished academic and author Professor Donna Lee Brien has relocated to CQUniversity's Noosa Campus to head two new creative industries programs. "Artists have long been drawn to Noosa and the region has a rich history of creative minds living and working together," Professor Brien said.

"It's an inspiring place to create and we aim to provide a flexible pathway to attract artists to come and develop their craft with the support and guidance of experts in their field.

"It is also a gastronomic hub, which will inspire my own research and writing in the area of food writers and their influence."

The new Graduate Certificate in Creative Industries and Masters of Creative Enterprise are being offered on-campus and externally and are designed to suit students in all art forms.
CQUniversity now offers a Graduate Certificate in Creative Industries and Master of Creative Enterprise (Creative Practice).
Professor Brien also supervises PhD students in creative arts areas including creative writing, food writing and music/performance studies by distance, with planned visits to Noosa during their candidatures.

Professor Brien said the new programs' content was customised to suit student needs and ambitions and focussed on developing student projects rather than the more traditional lecture and tutorial format.

"The curriculum is very flexible and is built around what a student wants to achieve," Professor Brien said.

"A student may have a specific idea that they are passionate about or it could be just a vague concept.

"We will draw on the whole of the CQUniversity staff across campuses, many of whom are also industry professionals, to match professional expertise to the project and bring it to fruition.

"We provide the flexibility for students to complete the programs at Noosa or by distance using online and teleconferences and other modern technologies."

Professor Brien has had a long professional association with the arts community, including as a curator at Sydney's Powerhouse Museum and the Museum of Contemporary Art and posts in several Australian universities.

She has authored several books, including two women's self-help guides, and numerous articles on creativity and writing.

Professor Brien said her experience shows tertiary study and artistic pursuits go hand in hand.

"In working on your own as an artist you don't necessarily develop those industry and professional contacts that are crucial in building a viable career," Professor Brien said.

"These programs give students the chance to work in their creative arts area, but also to develop entrepreneurial and media skills that are invaluable in the industry."