Music students strike right chord, thanks to TAFE-Uni pathway
Published on 19 September, 2011
Sunshine Coast students are striking the right chord with the music industry, thanks to a newly-established pathway from TAFE to CQUniversity...
Samson Fidler and Cohan Brew are benefitting from a unique partnership between Sunshine Coast TAFE and CQUniversity whereby TAFE music graduates are eligible for direct entry into the second year of the Bachelor of Music Program (Creative Music Technologies - Specialisation).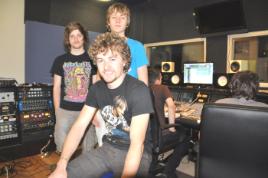 Rising country star Liam Brew with brother Cohan and Samson Fidler at Heliport Studios
This program has provided a further opportunity for the pair to work at the renowned Heliport Studios with Cohan's brother Liam Brew, who is a rising star in the international country music scene and a Toyota Star Maker Quest winner.
Liam, who will be touring with the Sunny Cowgirls until the end of this year, said the recording session went really well.
"I got a lot of great input from all the musicians and engineers, which really helps," he said.
"Cohan and Samson are two great young engineers who are really trying to make a career out of it, it's really great to see young guys having a crack at it and being really enthusiastic about music.
"Heliport Studios have a great selection of equipment that stacks up with the best studios in the country.
"I've been lucky enough to work in some of the biggest studios in Sydney and the gear they have here is right up there with those."
CQUniversity Noosa Campus music lecturer Charlie Macneil said the partnership between Sunshine Coast TAFE and CQUniversity provided the best of both worlds for the music students.
"This innovative music degree demonstrates the successful engagement of both students and industry throughout the program," Mr Macneil said.
"Liam Brew is a rising star and could have chosen virtually anywhere to record his new songs."
Samson and Cohan pooled their resources and arranged the recording session at Heliport Studios as part of their studies.
Cohan said it was a fantastic opportunity to experience a professional recording session whilst still studying.
"It was good to see what to do and what not to do and to work with great musicians," he said.
"This will really help me achieve my goal to focus on the recording side of things and work in music production."