Sydney sports a great team spirit
Published on 24 August, 2011
Sydney's 2011 Chancellors Cup hopes were born at our campus fun day back in April. A number of different games were played including an impromptu cricket match. Over the next few weeks, a steady stream of interested players prepared for the Cup to be held in Rockhampton. A table tennis competition was held in the basement. Cricket sessions were held in the nets on top of town hall square and some weekend fielding sessions in a ever water-logged Wentworth Park. A few futsal practises finalised our pre-trip preparations.
Contributed by Julia Doyle and Susan Robertson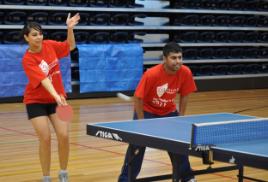 LINK to a larger image
Arrival in Rockhampton was met with sunshine, hospitable campus assistance, and great enthusiasm. Room keys and our team T-shirts were distributed; we were surprised by the quality of the accommodation and how professional we looked in our team colours.
It was this enthusiasm that had the cricket team up at 6.30 am for training prior to our first match on Tuesday. Unfortunately, team Sydney were convincingly defeated by Brisbane in this first match. Since Brisbane had played so well and with such sportsmanship we told them that they'd better win since they had beaten us.
We trialled new tactics for our second match: sleeping in. Despite a much improved fielding (and catching) performance, our beauty sleep did not help us overwhelm the Rocky team. So to the final was between Brisbane and Rocky. True to their word Brisbane did go on to win overall after beating us first.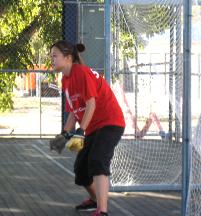 LINK to a larger image Futsal started off with a win against Gold Coast. Sydney played Melbourne in the last game of the first round; our team already had the points to go through to the play-off so took the opportunity to determine Melbourne's strengths and weaknesses. This tactic saw us win the third place when we played them in the finals. After two days of very vigorous games Rockhampton defeated Brisbane to win the trophy.
Nine doubles teams competed for the table tennis trophy. Both the Sydney teams and the team from Melbourne were mixed (a male and female) while all the others were men only. This makes the result for Sydney even more outstanding. All the teams played all the other teams in the first round; Sydney1 won seven of the eight games, only losing to the Gold Coast (who went through undefeated).
The semi-finals saw Gold Coast play Rockhampton 2 and Sydney1 play Rockhampton1. The Sydney Rockhampton game was very close, going to five sets as it had in the first round but unfortunately this time Rockhampton 1 was the winner. Sydney1 then played Rockhampton 2 and secured third place in the tournament. Gold Coast was the eventual winner.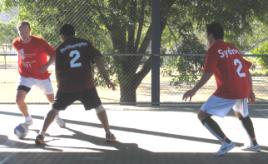 LINK to a larger image Our whole team agreed that they had learnt a lot and had better start training straight away for next year, and best of all they had made some fantastic new friendships, which were cemented on the dance floor on the final night in Rockhampton.
Thanks to our Chancellor, campus, team mates, and Rocky staff for this amazing experience.


LINK to a larger image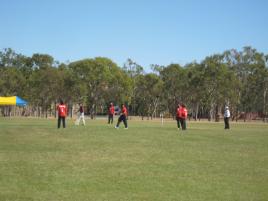 LINK to a larger image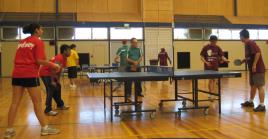 LINK to a larger image