CQUni researcher off to join Beach Socceroos in China
Published on 05 July, 2013
CQUniversity PhD candidate Michele Lastella has been representing Australia in the emerging sport of beach soccer and hopes to play at Olympic level one day.
His latest tournament with the Beach Socceroos is the Asian Cup in Haiyang, China, for six days from July 10.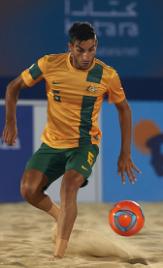 Michele Lastella pictured playing against the UAE in Qatar earlier this year. Photo by official photographer Manuel Queimadelos
Michele says the Aussies will try to qualify for the 2015 FIFA World Cup. There's also a chance that beach soccer may be accepted into the Olympics in time for the Games in Rio in 2016.
Meantime, Michele is involved in starting an Adelaide beach soccer competition towards the end of this year.
When not engaging in his sport, Michele investigates sleep behaviour in elite athletes. He's based at the Appleton Institute in Adelaide.
LINK for details on the emerging sport of beach soccer: http://www.beachsoccer.com/