Wolfs packs, returns to power projects at CQUni
Published on 04 December, 2012
One of CQUniversity's pioneering researchers, Professor Peter Wolfs has returned to Rockhampton Campus after almost four years as Western Power Chair in Power Engineering at Curtin University.
The 20-year veteran of CQUniversity is directing a research program in the power engineering space. This is of vital importance as Australia seeks innovation for competitiveness, environmental benefits, and a balance between reliability and cost to customers across a range of energy sectors.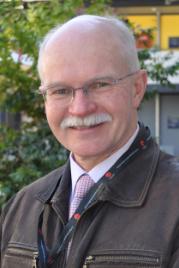 Professor Peter Wolfs
His focus areas include:
- Smart Grids - Prof Wolfs is the 'knowledge manager' for the Research Working group of Smart Grids Australia;
- Distribution engineering - especially power supply for regional and remote areas; integrating renewable energy into the networks and bushfire safety for electrical assets;
- Power electronic applications in distribution engineering and renewable energy;
- Electrical engineering applications in railway systems;
- Energy efficiency in the built environment
Professor Wolfs was this week welcomed back by CQUniversity's Institute for Resource Industries and Sustainability (IRIS).