Mackay firm provides lending hand to CQUni students
Published on 11 January, 2013
With recent data showing CQUniversity students studying engineering programs have a success rate for employment of over 90%**, first-year Electrical Engineering students Travis Smith and Lachlan Forsyth are well on their way to a dream career.
In addition, thanks to companies like Lend Lease, CQUniversity students are being guaranteed the best possible training during their time at university.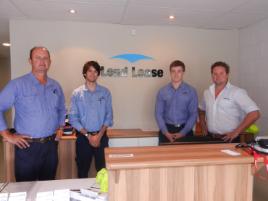 Lend Lease Mackay Manager Doug Legge (left) and Mining Solutions Manager Jason Flynn (far right) are supporting CQUniversity students Travis and Lachlan. In February 2013, Travis and Lachlan will be entering the second year of the Bachelor of Engineering (Co-op) and Diploma of Professional Practice (Engineering) with a wealth of experience under their belt.
The students will have spent just over three months at Lend Lease, working on projects that have been designed to test and develop skills necessary to work in the electrical engineering industry.
Lend Lease's Mining Solutions Manager Jason Flynn said Travis and Lachlan have already been exposed to a range of industry experience during their paid placement including CAD (Computer Aided Drawing) experience, workshop skills and working on specially designed projects relevant to Lend Lease.
Jason says the placement program has been beneficial for both the company and CQUniversity students.
"Lend Lease has a pretty active presence at CQUniversity and has the capability to take in students on placement, which we have been doing since around 2003," Jason says.
"We are happy with how the programs are run and what the students can bring to the table.
"It's a good thing for us and even better for the students as they are getting exposure to the relevant industry and profession before they graduate."
Travis is a recent graduate from St Patrick's College Mackay and said his placement with Lend Lease has been invaluable, allowing him to 'hit the ground running' by working on projects that are of benefit to industry.
"It's been great to get this type of exposure. Actually working in the industry beats sitting in the classroom," he said.
"I've learnt time management and project management skills along the way."
Lachlan, who is a recent graduate of Mackay State High School, agreed.
"We have learnt how things run in companies like this and it's nothing you can learn on paper," Lachlan said.
"Electrical Engineering is really interesting and there is so much around this region in terms of work."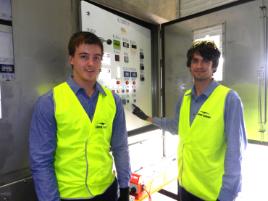 Lachlan and Travis in the Lend Lease workshop. In addition to the placements, Jason said Lend Lease also supports fourth-year students who wish to undertake their thesis projects with the company - a program which proves beneficial to all involved.
Jason said the company is a big advocate of supporting its local region.
"Lend Lease is a big supporter of the community and we can see the value in supporting local kids who are going to local universities, to work in the local region."
Lend Lease is a leading, fully integrated, international property and infrastructure group, which works with mining companies in the Mackay region.
** The Graduate Careers Australia (GCA) data is based on the percentage of (Australian citizens and permanent residents only) bachelor degree graduates available for full-time employment who completed the requirements for their awards in the calendar year 2011 and gained full-time employment within four months of completing their degree. Comparisons were made between CQUni's institutional table and the comparable national table. LINK HERE for details