Helping students come to their Census
Published on 11 August, 2011
Australia's official Census night just happened to fall during a particularly busy week at the Capricornia College residential facility on CQUniversity Rockhampton Campus.
The College called in help from a crack team of residents to distribute Census forms to more than 300 students and staff visiting from all over Australia.
Those staying at the College included long-term residents and residential school students as well as visitors from Sydney, Melbourne, Brisbane and the Gold Coast campuses, who were in town for the Chancellor's Cup sporting fixtures.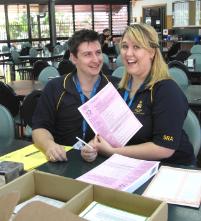 College residents Aimee Wilson and Phillip Rickert help distribute Census forms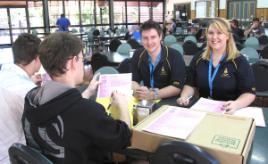 College residents Aimee Wilson and Phillip Rickert help distribute Census forms