Mackay relay team goes a long way through mud and rain
Published on 30 May, 2012
CQUniversity Mackay staff members put their muddy feet forward to relay a total of 265 laps overnight at the Mackay Relay for Life event on Saturday, May 26 and Sunday, May 27.
The team of 13, named the CQUniversity Conquerors, raised over $1500 prior to the event by hosting morning teas, sausage sizzles and dinner parties, and by selling raffle tickets.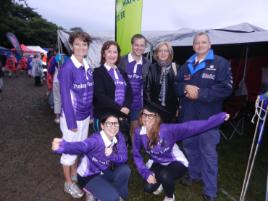 CQUniversity Conquerors L-R Natasja Steenkamp, Pauline McNee, Johnathan Hewis, Elizabeth Underwood, Wayne Milsom, Maria Tyler and Melissa Woods. (Absent: Carole Dawes, Sharon Grubb, Tracey Milsom, John Atkinson, Andrea Newton and Toni Coleman)At 3pm on Saturday, they joined 1300 other people from 135 different teams to raise money, show support and make a difference to the lives of those affected by cancer.
The event, which took place at Queens Park, became the biggest Relay for Life event in Mackay despite the rain and muddy conditions.
With the early hours of the morning bringing temperatures down to around 8 degrees, the CQUniversity relayers completed a total of 265 laps - around 80km - at 8.30am on Sunday.
Cancer Council Queensland's Mackay regional office relay coordinator Jeff Hardie said he was amazed at the support shown by all teams.
"Words can't describe the appreciation that we feel for the teams," he said.
"Not only have we recorded the biggest pre-event total as far as fundraising goes in the history of the nine year event, we've broken the record for the teams registered this year."