Kate knocks on opportunity's door
Published on 17 October, 2011
Mackay's Kate Wilson is not the sort of person to wait around for opportunity to knock on her door. She's got a track record of making things happen.
Even back in high school, Kate was prepared to wrangle enough students to justify an Ancient History class and then initiated a school excursion to Greece.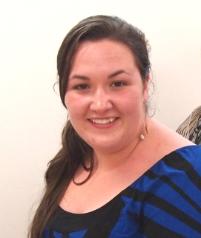 Kate Wilson, opening up a world of opportunities
She also had the chance to volunteer at a summer camp, working with disadvantaged kids from New York's inner-city suburbs - the Bronx, Brooklyn, Harlem, and Washington Heights.
Another milestone came when Kate was working as an Au Pair with disabled children in Philadelphia. She was nominated for 'International Au Pair of the Year', made it to the semi-finals and was ranked in the top three for her company (which had over 800 Au Pairs in the USA alone).
Nowadays, Kate is still actively mapping her future by completing the STEPS preparatory program at CQUniversity, with a view to enrolling in a nursing degree and working in an emergency department or small country town hospital.
Recently, the Australian Red Cross Blood Service was grateful for an extra boost to local supplies, as Kate encouraged STEPS students and tutors to visit the blood bank.
"I am currently involved with my church as a band member, and I am also a director of a Christian camp for teens and young adults from all around Central Queensland, called CQ Rendezvous," Kate says.
"I relate with Sheldon Cooper from the TV show, the Big Bang Theory. I like to organise, I remember random bits of information, and display small amounts of OCD.
"Now STEPS has helped me to have confidence in myself and in my ability to study and complete assessment.
"The best aspects of my STEPS journey included finding new friends, completing challanges, becomming more self aware and learning that I can do anything."
For details abotu STEPS, which stands for Skills for Tertiary Education Preparatory Studies you can visit http://www.cqu.edu.au/study/special-programs/bridging-programs/steps . STEPS is a pre-university preparatory program that can help prepare potential applicants for tertiary study. Testing is coming up for the next intake.