New campus reception serves visitors and students
Published on 15 February, 2012
Visitors to CQUniversity Rockhampton now have an easy-to-find front door, with a new campus reception located in the Commercial Centre beside the main carpark on the highway side of campus...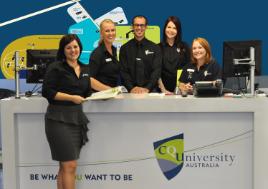 Billie Walker, Emily Franke, James Glendale, Kaye Ahern and Georgina Pickering are ready to help visitors and students
Apart from being a central point for visitors, future students and current students can seek directions, guidance and advice from friendly staff members.
There's also plenty of internet-linked computers, maps and brochures to facilitate course and careers advice, enrolments and general campus queries.
The campus reception will be open Monday to Friday from 8am until 5pm.
An adjoining conference room will also be used for information sessions, workshops, forums and other events throughout the year.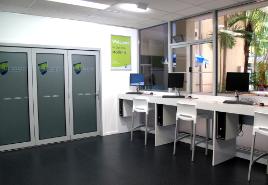 There are plenty of resources for visitors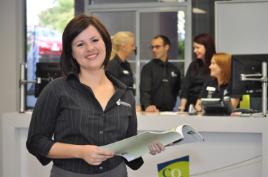 Billie Walker ensures the latest course brochures are stocked for the campus reception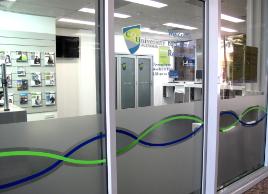 The new 'front door' to Rockhampton Campus

L-R Georgina Pickering, Emily Franke and Kaye Ahern are ready to offer guidance and directions to campus visitors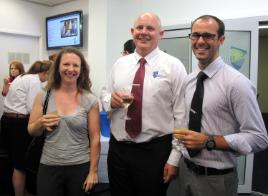 Vice-Chancellor Professor Scott Bowman (centre) with Keri Jones and James Glendale at the campus reception launch

L-R Jeffrey Lewis, Sherrie Lee and Kaye Ahern at the campus reception launch