Trading places - international students try life in regional Australia
Published on 15 August, 2011
Remember the Eddie Murphy and Dan Aykroyd film Trading Places where two business tycoons have a wager over what would happen if they swapped the lives of a young entrepreneur and a homeless street hustler? ...
Well similarly, but with far less malice, two CQUniversity researchers from Sydney, Associate Professor Alison Owens and Susan Loomes, have taken seven young international students out of their usual environment at CQUniversity Sydney and placed them at the Rockhampton Campus for two weeks - all part of a research project into cultural exchange and social integration.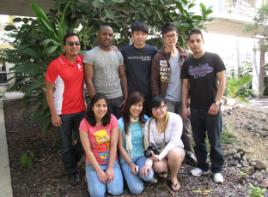 Student mentor Sujesh Nair meets up with CQUniversity Sydney students Dominic, Sakonard, Seongpil, Shivaw; (front) Ainni, Nancy and Karla.Used to the hustle and bustle of Sydney and CQUniversity's largest metropolitan campus, the students were amazed at the size of the Rockhampton Campus, with its glorious gardens and visiting kangaroos when they arrived this week. The warm and sunny weather was described as "a pleasant change" from the cold wet weather the students have experienced in recent weeks.
The students, from Kenya, India, Thailand, Korea and Vietnam, are staying in Rockhampton with homestay families to immerse themselves in the lifestyle of the regional city and will also attend classes with local students at the Rockhampton Campus.
Ms Loomes said the research project aimed to create opportunities for social and academic integration of international and domestic students, and also to learn about how students benefit from the experience and how it impacts on their approach to learning.
"We interviewed the students before they left for Rockhampton to record what they thought the experience would be like whilst 'trading places' from a personal and teaching and learning perspective. During their stay the students will be blogging about their experiences, impressions, emotions and adjustments during their cross-cultural learning journey and will be re-interviewed on their return.
"The pre and post 'trading places' interviews and blog data will be analysed to ascertain how the exchange impacted on the students' understanding of other cultures and to determine the benefits and challenges of this learning integration initiative."
Ms Loomes said the project's success is being made possible with the help of the staff at Rockhampton's English Language Centre, Student Support Centre and international student officer Robyn Bailey, who has been kind enough to show the students around the local area.
The project has been funded by CQUniversity's Division of Academic & Research and the research findings will be developed into a conference paper and presentation.