Here's a 'novel tea' idea, book in for reading year event
Published on 11 May, 2012
CQUniversity Gladstone Library invites all interested people to attend a morning tea event to meet local authors, share favourite stories and investigate the Port Curtis collection.
This FREE event to mark the National Year of Reading will be held from 10.30am on Thursday May 24 at the Cyril Golding Library on Gladstone Campus.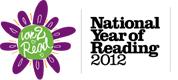 Visitors to the library will soon be able to see entries in the 'extreme reading photo competition'. Details are available via 4970 7357.