Madeleine's scholarship also boon for local businesses
Published on 27 June, 2013
Victoria Plains' Madeleine Morgan is no stranger to the challenges faced by small businesses.
The third-year Bachelor of Accounting student grew up on her family's cattle property and has first-hand knowledge of operating a business thanks to her mother's local dance company.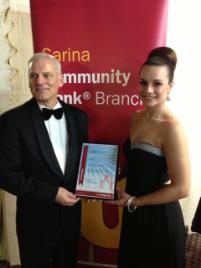 Sarina Community Bank Branch Director Ralph Johnson presents Madeleine Morgan with her scholarship. Madeleine says her full-time job, along with her study at CQUniversity, allows her to fulfill her passion of supporting other local businesses and their involvement within the community.
While juggling her studies, Madeleine has also been working as a full-time trainee accountant with local firm Flor-Hanly, where she predominately deals with businesses that operate in primary production and sugar cane farming industries.
The former St Patrick's College student has recently been acknowledged for her contribution to the community, thanks to the Sarina Community Bendigo Bank scholarship worth $4000.
Madeleine said the scholarship will provide much-needed support during the remainder of her program at CQUniversity.
"The scholarship will allow me to further my knowledge through purchasing textbooks and other resources for university," she said.
"I've been inspired by the bank's community involvement and its ongoing commitment for local education, support and work experience for young people like me."
Madeleine is currently a Student Ambassador for both CQUniversity and CPA Australia. A keen dancer, Madeleine is trained in tap, modern jazz and ballet.
The Sarina Community Bendigo Bank is proud to deliver the $4000 bursary for the second time in 2013. The scholarship is open to students who are currently enrolled at CQUniversity in any Business or Information Technology related bachelor degree.
Chair of Sarina Community Bendigo Bank's Board of Directors Ralph Johnson said he hoped the scholarships would assist students from regional areas to obtain a tertiary education, further their career and engage with their community.
"Madeleine has an outstanding work ethic and a hugely positive attitude," Ralph said.
"We are delighted to award our scholarship to Madeleine as we can see excellent outcomes and commend CQUni for its support."
To find out more about the scholarships, please contact the CQUniversity scholarship department on 4923 2786 or the Sarina Community Bendigo Bank's Branch Manager Roanna Brady on 4943 2634.