Uni turns 'coming to Australia' into a TV series
Published on 14 April, 2011
CQUniversity is again showing leadership in support for international students; this time by providing them with a special TV channel on YouTube so they can watch a series of pre-departure videos with their family members.
The special channel walks students through the steps they will need to take before leaving their home country, during the early weeks in Australia, for study in Australia and for living in Australia.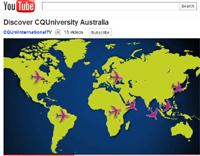 The series is tailored for students according to their destination, with special features on CQUniversity campuses in Sydney, Melbourne and the Gold Coast.
Denbeigh Inman, the Marketing Manager for CQUniversity's C Management Services, which produces the videos, says the TV channel is a better option than providing students with bulky folders of information.
"From the initial congratulations message, to opening a bank account, to visa requirements and to learning Australian slang, the bite-sized videos are ideal for our students," he says. "The videos are campus specific and provide a guide to help students to prepare and settle down comfortably in Australia and with CQUniversity.
"Our aim is to answer questions and alleviate fears about studying with CQUni and living in Australia. This is an exciting time for prospective students and this material will enhance faith and trust in CQUni as well as excite students and make them feel closer to achieving their dream."
Mr Inman notes that his team has also provided a special Facebook site for international students, which will also include information, events, photos and videos.
You can subscribe to the new services via www.youtube.com/user/CQUniInternationalTV or http://www.facebook.com/pages/CQUniversity-International/162380310477824 .
Here's a sample of one of the video chapters ...