New gear helps students 'unearth' industry skills
Published on 13 September, 2012
It's a project that keeps on giving.
CQUniversity Engineering students have been working with new Ground Penetrating Radar (GPR) equipment to produce results and data able to be used by the University when planning future developments on campus.
Senior Lecturer in Engineering Dr Arun Patil said the GPR equipment allows students to check for underground pipes and services, as well as electrical wiring. Senior Lecturer Dr Andrew Hammond is involved in supervising the projects.
GPR uses a high frequency radio signal that sends tiny pulses of energy into the ground in order to find the location and depth of an object.
Any materials such as geological structure differences and man-made objects like pipes and wire will cause signals to bounce back to the receiver for storage on digital media. The computer measures the time taken for a pulse to travel to and from the target, which indicates its depth and location.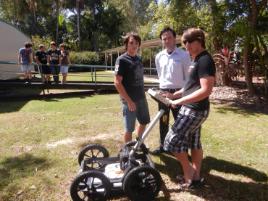 CQUniversity Engineering students Angus Hannan, Adam Janssen and Alec O'Keefe with new GPR equipment while students Tom Bussey, Dylan Galea, Nathan Thompson and Brent Rodgers look on.
Students will then use mapping technology to interpret the data and create maps which can be used by the Facilities Management Department at CQUniversity.
"The work that students are conducting is part of the compulsory industry project in the course Engineering Skills 2, as part of the engineering program," Dr Patil said.
"It gives students the opportunity to work with standard equipment used widely in the industry, as well as deal with real problems and consider the limitations they may face when working in the field."
First-year students Adam Janssen and Brent Rodgers are currently working with the equipment, along with their project teams. They said the hardest part was learning the technology but can see the advantages of being familiar with industry-relevant equipment.
Both students are local Mackay residents who are looking forward to undertaking work in the resource sector.
Adam is currently working 40 hours a week as a cadet engineer with Field Engineering, while also taking on part-time study.
Brent is undertaking the Engineering (Co-op) program which allows him to study full-time, and undertake a paid period of employment during the degree. He hopes to specialise in civil engineering.
The GPR was purchased by CQUniversity researcher Dr Col Greensill and allows students to familiarise themselves with the technology and equipment prior to undertaking industry experience.