Con Academy Music Theatre looking for new students from Mackay district
Published on 01 March, 2012
Primary and secondary school students who are interested in music theatre and love to sing and dance are invited to take part in the Conservatorium Academy Music Theatre program for 2012. The Con Academy program provides music theatre classes for primary and secondary school age children in the Mackay district.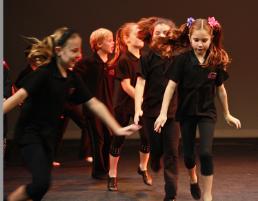 Previous participants in the Con Academy program
The classes allow children to explore their talents in drama, singing and dance within the context of music theatre, using the professional theatre facilities at the Central Queensland Conservatorium of Music (CQCM) on the Mackay Campus of CQUniversity.
Children will also have the opportunity to interact with the visiting professional theatre directors who work with the full-time tertiary students, adding an exciting dimension to the Con Academy classes.
Previous internationally acclaimed music theatre professionals who have worked with students at CQCM Mackay have included Dale Pengelly (Brisbane), Thern Reynolds (Melbourne), John Wregg (Sydney), Chris Horsey (Sydney), Drew Anthony (Sydney), Peter Cousens (Sydney) and Chloe Dallimore (Sydney).
The classes are led by Kris Brennan, who has tertiary training in music theatre and a passion for all things theatrical. Mr Brennan is enthusiastic about working with the Con Academy and helping children to nurture their talents in this area.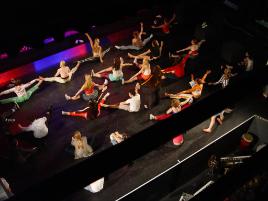 Previous participants in the Con Academy program
This year the classes are on Tuesday and Wednesday afternoons: Grades 1 - 4 from 4 - 5pm; Grades 5 - 8 from 5 - 6.30pm and Grades 9 - 12 from 6.30 - 8pm.
There are still limited vacancies in all classes. If you wish your child to enrol, please email academy@cqu.edu.au or phone the Conservatorium office on 4940 7800 to obtain an information booklet and registration form.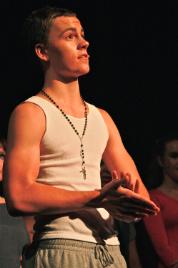 One of the Con Academy students from 2011 - Matt Laird