From Mackay to New York, Nathaniel's 'bass' always on the move
Published on 26 July, 2011
CQUniversity jazz studies graduate Nathaniel Andrew was born and raised in Mackay but now earns his living in America as a freelance electric bass player who can be heard on up to 40 different CD album recordings.
Now performing regularly around the Cincinnati region, Nathaniel is working with singer/songwriter/pianist Dan Orlando, who has a record label deal and will release an album later this year.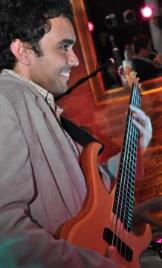 Nathaniel Andrew pictured on stage
"We've been playing a lot around the Cincinnati region and have recently played in Philadelphia, Columbus - Ohio and will soon be playing in New York.

"Other than that, I am freelancing and playing in a couple of different bands including salsa, rock, funk, and jazz acts. At the moment I am using this time to write new material and organise a group. By the end of the year I'd like to start working on an originals album.

"My long-term plan is to eventually get an album out and travel with my own group. What I'd like to do musically is combine all my influences and cultural elements together and create my own sound and style. I also plan to travel more as a freelance musician and eventually get into the studio and study producing."
Nathaniel started learning the bass guitar at the age of 10 and began working professionally around the Mackay region as a young teenager, performing freelance as a guitarist and bassist with many local acts.
After completing his schooling, he gained acceptance into CQUniversity's Central Queensland Conservatorium of Music as part of the Jazz Studies performance program, following in the footsteps of his brother Jonathan (who at that time had just finished the same degree majoring on electric guitar).

While attending CQCM, Nathaniel had the opportunity to study and play with many great Australian jazz musicians including Kristin Beradi, James Sherlock, Peter Walters, Paul Hudson, Brett Hirst, James Muller and many others.
After completing his studies at CQCM, Nathaniel applied for the Masters of Music program at the Cincinnati College-Conservatory of Music at the University of Cincinnati, Ohio, and was accepted into the school in 2008. While studying at CCM, he had the opportunity to perform around the Tri-State region with numerous musicians in all styles of music.

While completing his degree, Nathaniel had the pleasure of working with such acts as the Wilbert Longmire Band, Mike Wade and the Jazz Ambassadors, Acapulco, Tropicoso, Sun, Aurell Ray, The Joneses, WBJC, Tropicoso, Son Del Caribe, the Bevador's, as well as freelancing in other groups on bass and guitar. During this time Nathaniel was also studying Digital Recording techniques and Production as well as Sound Design.

Nathaniel has had the opportunity to perform and open for may big name acts including Jasmine Sullivan, The O'Jays, Joe, Robin Thicke, Mel Carter, Anita Baker, the Deal and Frankie Beverly and Maze, Jeff Coffin, Gary Winters, Sarah Morrow, Victor Wooten, Steve Bailey, Dennis Chambers, Bootsy Collins, Steve Jordan, Freekbass, Tjuperru as well as many more.