Nursing ticks all the boxes for 'country girl' Emma
Published on 27 June, 2013
Emma Scott grew up on a cattle property an hour west of Moranbah, where she was home schooled by her mother, with occasional help from governesses.
She's now progressing well in her Nursing degree on Rockhampton Campus and has gained one of the scholarships* provided by BHP Billiton Mitsubishi Alliance (BMA) to encourage students interested in 'non-mining' disciplines who demonstrate the need and desire to contribute to their local region.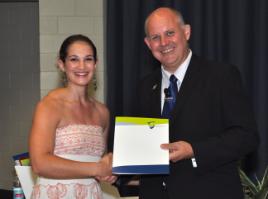 VC Scott Bowman congratulates Emma Scott on her BMA scholarship
Emma says home schooling offered little time for socialising but had other advantages.
"I got to spend time with my mother every day in our old donga (which we called our school room) having laughs and sometimes even learning to draw pictures when we felt we needed a break," she recalls.
"A more recent milestone is that I have already done some backpacking overseas and have travelled around the United Kingdom. While there, I worked and lived upstairs in a bar/motel based in London. It wasn't an easy ride I can tell you, but the challenge of getting around the world independently and knowing that you are the only one that controls the destiny of what your trip is going to entail, really opened my eyes up.
"When I got back from my travels, it was time I decided what I wanted to begin studying. Being a country girl, I needed a career that could take me rurally and also be flexible with my lifestyle for when a family came into the picture. That's the main reason studying nursing was a stand out to me; it ticked all the boxes as to what I needed and also what I was suited to. I'm a hands-on type of person who loves caring for and fixing anything.
"The BMA scholarship has helped assist me in my studies and I am therefore extremely grateful. Being at an advantage to significantly decrease my university debt, allows me to concentrate more on my studies rather than worrying constantly about how I am ever going to repay my university fees when I graduate. Being carefree in this way is a true blessing."
* BMA has awarded 13 of these scholarships in 2013. The Program offers 10 Community Scholarships as well as five Indigenous Scholarships, for students enrolling in non-mining related study programs like nursing, teaching, healthcare or business. Each of the scholarships provides up to $5000 per year to cover educational expenses for the duration of the recipients' study programs. The BMA scholarships were designed to alleviate skills shortages and build capacity in key service areas throughout the communities in which BMA operates. They encourage increased enrolments from people with disabilities, those who are female, those of low socio-economic status, those who are rural or remotely located, or those who identify as being of Aboriginal and Torres Strait Islander descent. Details are available at www.cqu.edu.au/bma or via 07 4930 9456.