Delma clocks up fifth year with Scientists in Schools program
Published on 24 August, 2012
Mackay-based academic Dr Delma Clifton has participated in Chelona State Primary School's annual Science Fair for a fifth year, as part of the CSIRO Scientists in Schools program.
The children were keen to talk about lungs and breathing and they got to see and touch a pig's lung and heart.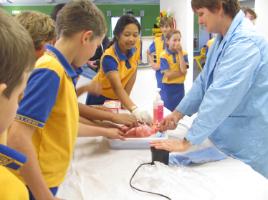 Angelica Sumat and Zac Hatfield get hands on with Dr Clifton while Madonna and Lucas Tomerini keep watch in the background
The school expressed thanks for Delma's involvement in what was its 12th annual Fair.
LINK HERE for more on the Scientists in Schools program