Alumnus elected to Thai Government
Published on 30 September, 2011
A former CQUniversity doctoral student has been elected to Thailand's parliament.
Dr Theerarat Samrejvanich, who graduated from CQUniversity Sydney in May last year, won the largely rural seat of Lat Krabang at the country's general election on July 3.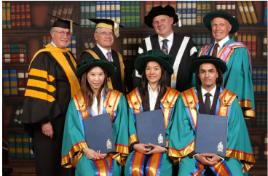 Dr Samrejvanich (front row centre) on Graduation Day
Her party, Pheu Thai, formed government under the leadership of Yingluck Shinawatra, who has become Thailand's first female Prime Minister.
In a May 2011 interview with The Bangkok Post, Dr Samrejvanich - described as a "young gun" of Thai politics - said her aim was to forge national reconciliation following recent social conflicts.
At the time, she told the Post that Pheu Thai's rice mortgage policy, which has now been approved by Thai parliament, "would be more useful and less costly than the Democrats' crop price guarantee".
The rice mortgage will, according to reports, increase the minimum guaranteed crop price for Thai rice farmers by more than 60 per cent, in the world's largest rice exporting nation.
CQUniversity Deputy Vice-Chancellor (International) Ken Hawkins says CQUniversity is delighted to recognise the success of yet another of its alumni from the Doctor of Professional Studies degree program.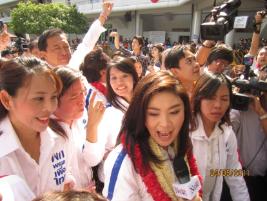 Dr Samrejvanich, centre, behind Thai Prime Minister
"Dr Samrejvanich's continued leadership success is, in part, further testimony to the value of the experience and professional development this unique program offers participants," Professor Hawkins says.
"Thai students in particular have been strong advocates of the program and we look forward to further support and participation from Thailand, other countries and domestically in Australia."
Dr Samrejvanich's thesis was entitled A Study of Thai Public and Private Secondary Schools Employing Nine Categories of Instructional Strategies (Private Schools).
Dr Clive Graham from CQUniversity Sydney says "we have had some exciting results for Creative Enterprises at CQUniversity, having graduated a member of the Thai Royal Family with a Master of Arts Administration and now a member of the Thai Parliament with a doctorate".