Teachers could be playing catch-up as textbooks become tech-books
Published on 24 January, 2012
Teachers could be playing catch-up in high-tech classrooms with Apple's recently announced foray into interactive textbooks helping to accelerate this trend.
That's according to CQUniversity's Dr Michael Cowling who is researching the 'technology competency' of educators, following a recent study into the potential use of the Twitter social networking tool in the classroom.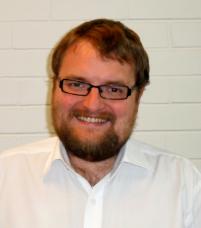 Dr Michael Cowling
Dr Cowling said teachers and lecturers were digital immigrants compared with their younger digital native students. He says his research exposed a 'fear factor' among academic staff worried that technology would take over their classroom when they were unprepared.
"You can imagine teachers will be enticed into using the very rich environment of textbooks on tablet computers, and their students may be way ahead of them in terms of the technology," he said.
"It's unclear how companies such as Apple expect teachers to manage this transition, trying to educate using technology that students know more about than the teacher."
"Announcements such as Apple's new interactive textbooks are forcing teachers and lecturers to become reluctant adopters of technology; I don't think they're all ready for that," he said.
"Universities and schools are going to need to seriously consider their staff professional development programs if they're going to deal with this digital divide between teaching staff and the students they teach."
Equitability in the classroom is also important, with Dr Cowling expressing a concern that not all students would have access to the tablet technology.
"Our Twitter research showed that for these initiatives to truly work, all students need access to these technology devices, otherwise you quickly run into the situation where the student who really needs the benefits from the technology does not have access to it, removing any pedagogical advantage," he said.
"For this type of initiative to truly succeed, it will need to be an iPad for every student or a tablet computer at every desk."
Dr Cowling is collaborating with a colleague Jeremy Novak from Southern Cross University on research funded by CQUniversity. The pair will publish the initial results from their technology competency work at the 6th International Technology in Education conference in Valencia, Spain this coming March.