Cassie and Kalinga feted for leadership, academic results
Published on 20 April, 2012
Congratulations to Master of Information Systems student Kalinga Wickramasinghe and Bachelor of Accounting student 'Cassie' Rong Rong Xu who will be recognised as Campus Director Award winners when they attend the Melbourne Campus graduation on May 11.
Kalinga has also been selected to deliver a speech on behalf of graduates at the ceremony.

Kalinga and Cassie at the Melbourne Capus honour board
The Campus Director Awards acknowledge outstanding academic achievement as well as leadership potential and qualities which inspire others.
Originally from Sri Lanka, Kalinga arrived in Melbourne two years ago. Throughout his course, he has impressed all his teachers with his consistent achievement of excellent results, which include the top grade in five of his courses.
In addition, staff commented on his active participation in all his classes, his willingness to assist fellow students with difficult concepts, and to take a leadership role in group activities.
Kalinga is grateful for the support and encouragement of his lecturers and tutors in helping establish a firm foundation for the application of his skills and knowledge in the workplace. His current goal is to find a professional role in Australia as a business analyst.
The other awardee, Cassie left Shanghai in China four years ago to begin her studies in Australia. Since then, while studying, she has gained valuable local work experience in hospitality and assistant accounting roles.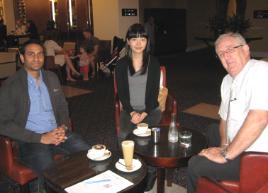 The awardees with Campus Director Darryl Stewart
Her academic achievements include scoring the top grade in six of her courses and she was highly recommended for this award.
Described as an enthusiastic, proactive student who made positive contributions in all her classes, Cassie also actively engaged with students from other nationalities. She enjoyed group activities and cites the diversity of cultures as a highlight of her CQUni experience.
In future Cassie is intent on finding a local professional accounting role which specialises in tax and auditing.