After 5 years of study, Matt's arranging 3 or 4 more
Published on 24 February, 2012
After five years of study to gain his honours degree, University Medalist Matt Thompson is arranging to become a PhD candidate, thus signing up for three or four extra years of intense work.
Matt joined around 230 graduates attending the latest Rockhampton Campus graduation ceremony on February 23, at the CQ Community Sports Centre on Rockhampton Campus.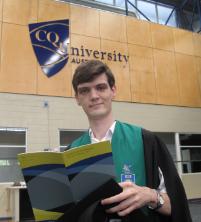 Matt prepares for his graduation ceremony
As well as celebrating completion of his Bachelor of Science (Honours) (Applied Physics) First Class, Matt was presented as the University Medalist and recipient of the Chancellor Stan Jones Scholarship.
Matt's honours project examined the corrosion of steel in the alumina industry. He's currently arranging his PhD project to examine structures of materials, with a potential focus on new materials for solar panels or damage to metals at high temperatures.
During his degree, Matt was able to experience an 'industry placement' with CSIRO Livestock Industries, doing programming work to interpret GPS data.
Last year, Matt earned a $5000 scholarship from the Australian Institute of Nuclear Science and Engineering.. It was one of only 10 honours scholarships awarded by AINSE for 2011 based on academic excellence.
This AINSE support enabled him to access national physics laboratories, furthering his understanding of the corrosion of mild steel in heat exchanger tubes in the digestion phase of alumina production.
Graduates and their families heard from guest speaker Graham Carpenter, a CQUniversity alumnus who is now Chairman of the Board for Stanwell Corporation Ltd. A response on behalf of graduates was delivered by Nicole Hinder, who completed a Bachelor of Business (HRM) with Distinction.
Phd graduate Jesmin Nahar completed a thesis on Computational Intelligence for the Diagnosis of Cancer and Heart Diseases and PhD graduate Mohammad Mazid's thesis was on Intrusion Detection Using Machine Learning.
Other awards presented included the Vice-Chancellor's Awards for Learning and Teaching (to Michael O'Malley and Assoc Prof Peter Reaburn); the VC's Award for Emerging Researchers (to Dr Mitch Duncan); and the VC's Award for Excellence in Research Higher Degree Supervision (to Prof Brenda Happell).