Health and education high on agenda for new councillor Gai
Published on 15 May, 2012
Cementing Emerald as a hub for education and health will be the big ticket issue for CQUniversity's Gai Sypher who has newly been elected as councillor on the Central Highlands Regional Council.
From humble beginnings at the Emerald Campus 12 years ago, Ms Sypher has moved through the ranks as administration officer to her current position as Operations and Project Manager.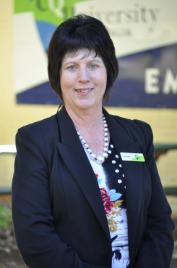 CQUniversity Emerald's Operations and Project Manager Gai Sypher will share her time between CQUniversity and the Central Highlands Regional Council as she celebrates her new election as councillor for the region. During that time she has gained a Bachelor of Arts with majors in Sociology and Welfare and a Master of Management (HR).
Her recent election to regional council will give Ms Sypher the opportunity to strengthen the region's access to healthcare professionals and provide better links with education.
"I will work closely with Queensland Health, the new GP Super Clinic and State and Federal Government representatives to attract long-term health professionals to the region," she said.
"This will open up the opportunity for clinical placement of CQUniversity's allied health and nursing students."
Ms Sypher said Emerald is positioned to become an education hub for the Central Highlands area.
"No other regional town in Queensland with a population of 15,000 has an Agricultural College, a University campus, TAFE Campus and a large number of training providers," Ms Sypher said.
"At council level, I will push for this aspect to be profiled as a major liveability characteristic."
Ms Sypher said it has always been an ambition of hers to run for council, but decided to wait until her children had left school so not to impact negatively on the family due to the enormous responsibility and workload that comes with the job.
"I have always been very involved in the Central Highlands Community as a volunteer as well as a professional representing the University."
Ms Sypher will be one of eight councillors representing an area of almost 60,000 square kilometres from the Arcadia Valley in the south to the Peak Ranges in the north, east to Boolburra and Bogantungan in the west.
"I have never worn rose tinted glasses so I have no illusions about what I have put my hand up for," she said.
"I look forward to the challenges of council and to my continued role at CQUniversity."