CQUni contributes to community march
Published on 01 November, 2012
CQUniversity Mackay staff put their best foot forward to show support for Mackay's Reclaim the Night march on the Forgan Bridge recently.
They joined more than 100 other community members who took to the streets to increase community awareness and stamp out sexual violence and assault.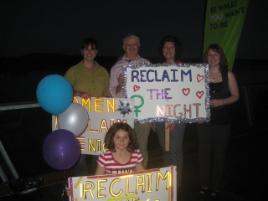 CQUniversity staff (L-R) Michelle Whiley, John Atkinson, Heather Nancarrow and Grier Williamson with Lara Whiley (front). (Absent: Shane Hopkinson and Rebecca Humble) CQUniversity's Queensland Centre for Domestic and Family Violence Research Director Heather Nancarrow said the sexual abuse and violence was not an issue to be dealt with just one night of the year.
"It has to be dealt with every single day," she said.
"We need to challenge that type of behaviour."
A candle ceremony and performance from the Fijian Choir completed the night.
Reclaim the Night is an annual event held across Australia and globally.