Alan's new chapter proves degree is within reach
Published on 14 February, 2013
It's been more than 35 years since Alan Tucker attended high school but, in the space of 12 months, the CQUniversity Cairns student is already heading towards a Business degree.
Having just completed the Skills for Tertiary Education Preparatory Studies (STEPS) by distance education, Alan will undertake a Diploma of Business this year.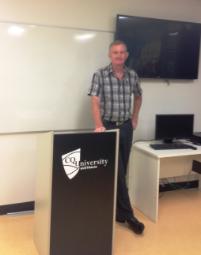 CQUniversity student Alan Tucker prepares to begin his Diploma of Business. His ultimate goal is to graduate with a Bachelor of Business.
"I had completed the STEPS course to qualify for entry into university, as I hadn't completed Years 11 and 12 when I was younger," Alan said.
Born and bred in Victoria, Alan finished Year 10 before working in the banking and finance industry in Australia and overseas. He was recruited for an international bank in Papua New Guinea before spending the next 17 years as regional marketing manager for an export company.
Upon his return to Australia, Alan began to consider new career options.
"I became dissatisfied with my employer, I was getting bored with my job and wanted to start university for personal satisfaction, to prove something to myself and to be a role model for my teenage children," he said.
Upon moving to Cairns eight years ago, Alan's decision to start studying via distance education at CQUniversity Cairns was an easy one. He said the STEPS program had prepared him well for the start of his university education.
"I have found the course content, internet communication and support to be very good. I only became overwhelmed when my personal situation interfered with my study plans," he said.
Alan also enjoys having the support of the CQUniversity Cairns Distance Education Study Centre to interact with lecturers and students online and via videoconference, as well as having resources available during opening hours.
To find out more about the programs you can study via distance education, contact 13 27 86.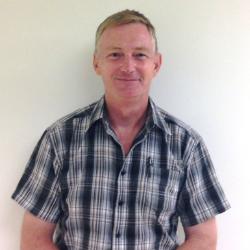 Alan Tucker