Kim Kirkman at the 'harp' of debut album
Published on 09 February, 2012
CQUniversity music lecturer Kim Kirkman has helped produce a new debut album as one half of Sunbird Duo, which also features soprano Cheryl Fiedler.
Based at the Central Queensland Conservatorium of Music at Mackay Campus, Kim says the album entitled Rich and Rare is a delightful collection of folk songs and classical favourites.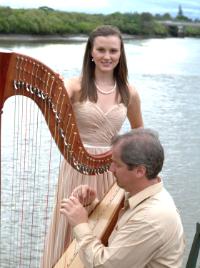 Kim Kirkman with soprano Cheryl Fiedler
According to the album website, Cheryl is 15 years old and has been learning singing for four years. For many of those years, her mum drove her to Mackay from Prosperine, one and a half hours away, for her weekly lesson with Kim.
Kim reports enjoying the calming effect of harp playing.
More background and ordering details are via http://bakkstudios.com/richandrare.html