Ruth strives for better health in PNG
Published on 20 May, 2013
Ruth Pape is a woman on a mission.
The mother-of-three says she hopes the enormous sacrifice to leave her family and undertake further study and advocacy work in Australia will bring better health care and awareness of breast cancer - as well as more screening equipment - to the women of Papua New Guinea.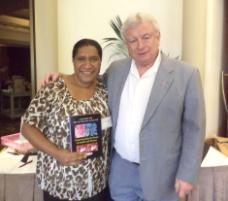 Ruth and Professor Laszlo Tabar (Mammography Course Director) at the 2013 Tabar Conference.Ruth obtained her Medical Imaging qualifications in Papua New Guinea and spent six years working between public hospitals and private clinics where she x-rayed thousands of women having breast cancer checks.
"It was very sad but a lot of the women I saw did not know about early detection and by the time anything was picked up, it was often too late," she said.
Ruth said there was also a lack of qualified mammographers in PNG and equipment to screen women was rare. There are only two hospitals in PNG with CT and mammogram equipment.
"The equipment is old, some has stopped working and there was no-one qualified to use it, so it was just sitting there idle."
Ruth is now completing her Master of Health Science at CQUniversity, under the supervision of Professor Phillip Ebrall, Dr Kelly Spuur and Caroline Falconi, through an Australian Agency for International Development (AUSAID) scholarship.
Her husband and three small children aged 5, 4 and 16 months remain in PNG.
"When I got to Australia I cried every day for a month. I thought, why have I left my babies?"
But Ruth says her determination to continue the relentless work in health care and early detection of breast cancer was for her own daughters and the women of PNG.
Her research thesis is Mammographic Parenchymal Patterns of New South Wales North Coast Aboriginal and Torres Strait Islander women.
Ruth says her research is important as the study will allow research into breast tissue density as a strong predictor of an increased risk of developing breast cancer.
She will also be able to use her research in PNG.
"With the high rates of breast cancer, the only way to reduce is with early screening which could save a women's life."
"Only the PNG women who can afford the best treatment will get the proper medicine required; not everyone has the luxury of better healthcare."
Ruth says she would like to arrange for machinery for the four regions of PNG, possibly by accessing older models from Australia which are no longer in use here.
"Most of the women in PNG that I saw came from villages and they have to wait for transport and so I spent a lot of time working late making sure they got their results and letting them know whether they needed extra tests.
"I didn't mind because the women felt free to express themselves and their problems to me."
Since coming to Mackay, Ruth says she values the connections she has made with a local church and has found support within the CQUniversity community.
"At home I was so busy supporting my children and working full-time and looking after family, so this is my first chance to rest."
Ruth's definition of 'rest' has her spending late nights and early mornings writing her thesis paper. For the next few months Ruth will be analysing data from BreastScreen NSW North Coast to contribute to her thesis report.
"I have to do this for the women of PNG as well as my daughters - I hope they know later that I have made this sacrifice for them."