Ensuring students are motoring along before reaching Uni
Published on 27 June, 2013
Seventeen high school seniors were not daunted by the challenge of making a motor from household items, programming a robot and operating a conveyor belt...
The cream of maths and physics students from the Rockhampton and Gladstone regions converged on CQUniversity Rockhampton Campus this week for an Engineering Link experience.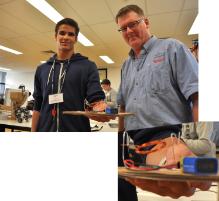 Miguel Pengel from Toolooa High in Gladstone shows EngLink organiser Greg Millican his progress on building a motor. LINK for larger images
CQUniversity is proud to be a major sponsor of the event and local industry representatives also lent a hand.
The CQ Engineering Link Project is a key student recruitment event for CQUniversity to promote engineering programs.


LINK for a larger image
The event provides the opportunity to engage with year 11 and 12 Maths and Science students who are making decisions about their future careers and what university they will choose. It's an effective platform to promote careers and tertiary study in the field of engineering and mining technology.
The CQ Engineering Link Project is an initiative of the Engineering Link Group and, since its inception in 1994, it has grown to be the exemplar in Queensland and Australia for introducing secondary school students to the discipline of engineering. It has since expanded to cater for both year 11 and year 12 students.
Students also have the option of staying at Rockhampton Student Residences during the program.
More information is available via http://www.telg.com.au/Project-Calendar.html