Dishala accounts for herself, Saikiran masters his course
Published on 29 August, 2012
Sri Lanka's Dishala Thenuwara and India's Saikiran Likki have been chosen for praise as part of the Campus Director's Awards at CQUniversity Melbourne.
Saikiran earned a postgraduate award for excellence in his Master of Information Systems studies, while Dishala earned the undergraduate award for excellence in her Bachelor of Accounting degree. These awards will be presented at the forthcoming Melbourne Campus Graduation Ceremony on September 14.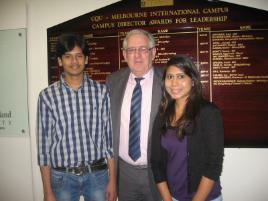 Campus Director Darryl Stewart congratulates Saikiran and Dishala
The awards acknowledge outstanding academic achievement as well as leadership potential and qualities which inspire others.
Coming from Hyderabad in India, Saikiran impressed all his teachers with his consistent achievement of excellent results throughout his studies, including top grades in several of his courses. In addition to academic excellence, staff praised him as an all-rounder and highly deserving of this award for his discipline, commitment and support of other students. Lauded as an excellent team player and competent communicator, Saikiran gratefully acknowledges the support and encouragement of lecturers and tutors who have assisted him to establish a firm foundation for the application of his knowledge in the workplace. He now aims to find a professional role in Australia as a business or systems analyst.
Dishala left Colombo in Sri Lanka three years ago to achieve her goal of studying in Australia. Since then, while studying, she has earned her living expenses working in retail roles, gaining valuable local work experience and honing her English language skills. Her academic achievements include scoring among the top grades in seven of her courses and her lecturers recommended her enthusiastically for this award. Described as a conscientious, engaging student with excellent interpersonal skills, Dishala made positive contributions in all her classes and was popular with her peers, actively supporting fellow students of all nationalities. Her current goal is to find a local accounting role in the finance sector and gain some practical experience before she continues with graduate studies.