CQUni Noosa guiding Vietnamese education changes
Published on 20 March, 2013
Sunshine Coast academics at the cutting-edge of education research are playing a key role in modernising Vietnam's primary and secondary schools...
The researchers from CQUniversity's Noosa-based Learning and Teaching Education Resource Centre (LTERC) are currently training senior Vietnamese Ministry of Education and Training officials and university staff on textbook and curriculum development.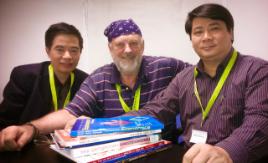 Professor Mike Horsley (centre) with visiting Vietnamese education officials Khanh Nguyen Cong (left) and Doan Van Ninh are working to modernise the Southeast Asian country's teaching system.
Funded by the Asian Development Bank, the teaching program is part of a Vietnamese Government initiative to replace their current student resources with the kind being developed at LTERC.
LTERC Director Professor Mike Horsley said the courses covered LTERC's research on how educational resources could incorporate digital technologies.
"Today's textbooks can encompass interactivity and multimedia technologies more than ever before," Professor Horsley said.
"They now have digital components such as links to websites and online exam cafes, as well as interactive CDs and DVDs.
"This is something that's entirely new to the Vietnamese education system, so we are sharing our skills and knowledge with their policy-makers and resource developers to help them adapt these techniques to their needs."
Mr Horsley said LTERC was chosen to deliver the training from a tender process that included the world's foremost educational institutions.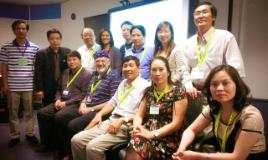 LINK for a larger image of Prof Mike Horsley with his Vietnamese visitors
"LTERC researchers are renowned worldwide for their expertise in learning research," Professor Horsley said.
"The centre boasts multiple award-winning academics with peerless experience in the areas of curriculum and textbook development.
"That LTERC was chosen to help guide the future of education in Vietnam is further recognition that we are world-leaders in this field."
Khanh Nguyen Cong, from the Hanoi National University of Education, was part of a delegation that undertook courses this week, the third group since the program started last month.
Mr Cong said current teaching methods in Vietnam were still very traditional.
"Vietnamese teachers still mostly use blackboards and traditional textbooks," the Director of Hanoi University's Education Quality Assurance Centre said.
"We're aiming to learn as much as we can about how to design new textbooks that are more focused on electronic technology.
"Then we can go back to our colleagues and develop content suitable for Vietnam and raise the standard of education there."