Dr Molly Yang stars in tale of two universities
Published on 15 September, 2011
As two of the leading tertiary institutions in regional Queensland, James Cook and CQUniversity are bound to have some common threads of interest.
One of these areas of overlap ocurred at the recent doctoral graduation of Molly Yang, a JCU International staff member who celebrated gaining her PhD at CQUniversity's Gold Coast graduation ceremony.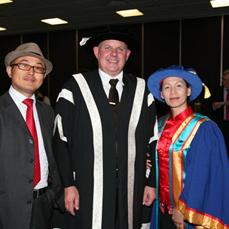 Professor Scott Bowman at the Gold Coast graduation with Dr Molly Yang and Phd candidate Stephen Lin
- Contributed by CQUniversity PhD candidate Stephen Lin
Dr Scott Bowman, the former JCU Pro Vice-Chancellor and current Vice-Chancellor of CQUniversity was on hand to congratulate Molly, who commented that both universities are putting more emphasis on research capacity.
"It has been a great honour to be able to study in and work for both universities. And I cannot decide on my preference yet," Dr Yang said with a big smile.
"As a new doctorate researching and working on international recruitment and marketing, I am keen to see more flexibile, responsive and effective strategies are implemented by all Australian universities, especially Queensland institutions, so as to attract a steady flow of international students and transform them to our future leaders for the whole world.
""My thesis was built on 15 years of my personal and professional experience acquired in Australia and the research findings can be tested in current conditions of the international education market. CQUniversity has a lot to contribute to provide leadership in this aspect.
"I am forever indebted to the tireless work and support provided by CQUniversity's research team, especially my initial supervisor Dr Tony Ward, my Associate Supervisor Associate Professor Bobby Harreveld, who has won the Best Supervisor Award for 2010, and my Principal Supervisor Emeritus Professor John Dekkers, who has rescued many struggling PhD candidates like me and nurtured us into would-be academic leaders in our own right."