Scholarship provides focus, not just funds
Published on 20 September, 2012
The scholarship process can provide both motivational and financial support.
That's according to Learning Management student Sylvia Doyle, one of two recipients of the $1000 Rotary Club of Mackay North Inc Scholarship, who recently thanked club members in person.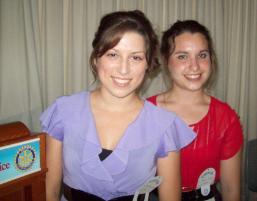 Rotary Club of Mackay North Scholarship recipients Tiarna Burgess (left) and Sylvia Doyle
"Scholarships provide critical funds which are integral to surviving as a university student and being able to afford tuition fees, textbooks and other costs," she said.
"The experience of applying for a scholarship has also been such a fulfilling process, which has made me realise my aspirations, whilst also ensuring I can fully focus on my studies."
Sylvia and the other Mackay North Rotary scholarship recipient, Tiarna Burgess, are both studying the Bachelor of Learning Management (Primary Education) degree on Mackay Campus.
Syliva says that even the process of writing the scholarship application was "somewhat therapeutic to refocus my goals and consider what I want out of university".
Meantime, Tiarna says her goals as a developing professional include to grow the resources and materials she has "enabling me to further my knowledge and opportunities to be an effective learning manager".
"Through my career in education, my ultimate aspiration is to teach internationally in a non-English speaking classroom.
"As a teacher, my ambition is to enrich the lives of each of my students through my dedication to provide them with the best tools and opportunities of learning."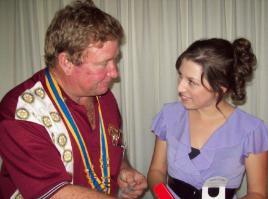 Rotary Club of Mackay North President Greg Power congratulates Tiarna Burgess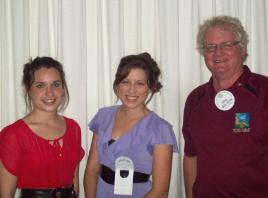 Sylvia and Tiarna with Rotary rep Phil Wilson