CQUni academic in the 'mix' to advance management research
Published on 19 March, 2013
CQUniversity senior lecturer Dr Roslyn Cameron is providing national and international leadership to champion 'mixed methods research' for the business and management disciplines.
Dr Cameron is the Mixed Methods Research Special Interest Group (SIG) Co-Convenor for the Australian and New Zealand Academy of Management, along with Professor Ray Cooksey (University of New England).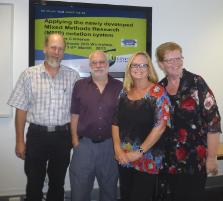 Dr Roslyn Cameron (second from right) pictured during a Mixed Methods Research Workshop in Brisbane with Prof Ray Cooksey (UNE), Prof Mark Saunders (UK) and Prof Anneke Fitzgerald (Griffith)
In addition, she is collaborating with the research methods 'SIGs' from British Academy of Management (BAM) and European Academy of Management (EURAM) to edit a Reader on Mixed and Multiple methods.
The Gladstone-based Head of Discipline for HRM was recently one of four facilitators for a Mixed Methods Research Workshop for ANZAM in Brisbane.
During late March, the Prior Learning Research Centre (PLIRC) is flying Dr Cameron to Vancouver in Canada to present at a SUMMIT 2013 Conference, with the topic being Recognition of prior learning (RPL) and human resource management: Learning from Downunder. Dr Cameron is on the board of directors for the PLIRC.