Worker shortage 'perfect timing' for tourism graduates
Published on 03 November, 2011
The first graduates from two CQUniversity Tourism programs due to begin next year will be presented with an unprecedented demand for their services as they enter an Australian tourism industry facing a shortage of more than 90,000 workers...
An Australian Government report released last month confirmed an estimated 35,800 current tourism vacancies across the nation, with an additional 56,000 people needed by 2015, the same year the majority of CQUniversity's first group of Bachelor of Tourism and Bachelor of Business (Tourism) graduates will enter the job market.
LINK to Mackay and Noosa host launches for new Tourism degrees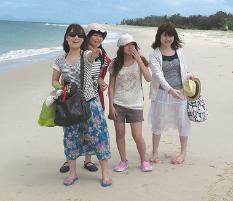 With the report finding almost half of the vacancies would require skilled workers; CQUniversity Head of Tourism Programs Dr Scott Richardson said the timing could not be better for the graduates, who will be in unprecedented demand.
"We expect gaps throughout the industry and, with our graduates highly trained in a number of aspects of the tourism business, the opportunities will be substantial," Dr Richardson said.
"It won't stop in 2015 either, with China, South-East Asia and India booming, the number of inbound and outbound tourists will be larger than ever before and will provide opportunities throughout the region.
"Australia in particular will be well placed to capitalise on the rapidly expanding number of Chinese tourists, so it will be an incredibly exciting time for the tourism industry here."
The report acknowledged the crucial role CQUniversity and other educational institutions would play in addressing the shortage, citing a need for skilled workers as among the "most prominent labour force pressures facing the industry", with structured career pathways and better training key factors in meeting the demand.
The new programs will be offered at CQUniversity's Noosa and Mackay campuses, as well as by distance education, and Dr Richardson said the programs would offer solid career pathways into local, national and international tourism industries.
"We engage directly with local industry - such as Mackay Tourism, Tourism Noosa, Tourism Whitsundays and the Sheraton Noosa - to ensure the program is relevant to industry needs," Dr Richardson said.
"CQUniversity also recently became the first regional university to be appointed an affiliate member of the United Nations World Tourism Organisation (UNWTO), which is the leading international tourism body, and the University is also a member of the Global Sustainable Tourism Council.
"These memberships allow us access to the latest data, research and policy decisions relating to tourism at the highest international level."
Dr Richardson and fellow CQUniversity tourism lecturer Steve Noakes are members of the UNTWO's Global Panel of Tourism Experts, a group of leading industry figures appointed to give strategic policy advice to the organisation on international tourism issues.
Dr Richardson said, between them, he and Mr Noakes had more than 45 years of experience in the tourism industry.
"Before becoming an academic I spent 15 years in the tourism and sports-tourism industries, including extensive periods at various hotels," Dr Richardson said.
"Steve has been in the industry for more than 30 years, has operated a number of different companies, advised government and industry bodies around the world, and is considered an international expert on eco and sustainable tourism."
The CQUniversity Tourism programs cover areas such as tourism management and marketing, as well as key consumer tourism areas such as events, special interest tourism, nature-based tourism, and resort and hotel management.
The Bachelor of Business (Tourism) also allows students to choose a number of elective subjects that give them the flexibility to pursue other interests and career goals such as human resource management and marketing.