Roadshow delivers radiography and sonography workshops
Published on 12 April, 2012
CQUniversity radiography and medical sonography lecturers took part in a first-time educational roadshow to gain better knowledge of integrating curriculum in the workplace...
Led by Rosemarie Peikes, consultant in professional and organisational effectiveness in Ontario, Canada, and hosted by CQUniversity, the roadshow was the first of its kind to be brought to a university in Queensland.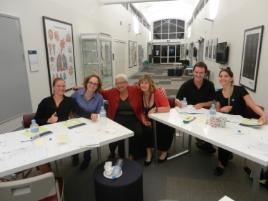 Carolyn Ladewig, Sarah Wooldridge, Rosemarie Peikes, Maria Maroney, Ryan Hardy, Danielle Clifford enjoy an educational workshop at CQUniversity Mackay. The hands-on, interactive workshops were open to all clinically-based educators, radiographers and sonographers who may have interactions with students in the workplace. Specifics related to CQUniversity radiography and sonography programs were also briefly covered.
More than 100 participants in Cairns, Townsville, Mackay, Rockhampton, Bundaberg, the Sunshine Coast, Sydney and even New Zealand learnt of the benefits of having students in the workplace and the role of clinical educators as coaches and mentors.
Ms Peikes, who has been delivering similar workshops in Canada for over 20 years, also spoke about strategies to orient students to the clinical environment, to identify learners' needs and learning styles, and to provide effective learning opportunities.
"Many of the sonography and radiography programs within CQUniversity are quite new and students within these programs will have to go into a clinical setting later in the year so the workshops are all about integrating the curriculum in the workplace," Ms Peikes said.
"We have received good feedback with participants saying they have been happy with the content and have enjoyed the workshop."
The interactive workshop provided delegates with an opportunity share their own experiences and good practice with student support and education in the clinical environment.
The workshops, which have been approved by industry bodies AIR (Australian Institute of Radiography) and ASAR (Australian Sonographer Accreditation Registry), allowed participants to gain four CPD points for their involvement.
Organisers said they were grateful for the clinical sites which allowed them to host the workshops.