Uni marks 40 years of Distance Ed in north, Cairns man shows what is possible
Published on 10 May, 2013
As CQUniversity marks 40 years providing distance education in NQ and FNQ, Cairns business executive Dr Ray Hamey has extolled the benefits of external studies for career advancement...
Dr Hamey has spent decades as a distance education student, with multiple degrees and professional qualifications across business, commercial law, taxation, accountancy, aviation, education and music. He's studied at a range of universities, including CQUniversity.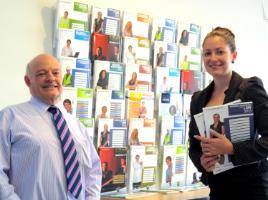 Dr Ray Hamey chats with CQUniversity's Cairns-based Senior Marketing and Engagement Officer Jodie Savina as they review the vast range of distance education options. CQUniversity now has a Distance Education Study Centre in Cairns and has been offering external studies in North Queensland for 40 years
He is currently the CEO/CFO for Sierra Accounting & Consulting Pty Ltd in Cairns and has over 30 years' experience in the strategic and operational financial management of diverse and complex organisations. He has even run aviation companies, has lectured at several universities, has contributed to a radio show and has published magazine articles.
Nowadays Dr Hamey also works for a government-funded 'mentoring for growth' program and is a director of the Weipa Medical Centre.
Dr Hamey said he was pleased to see CQUniversity providing additional support with its new Distance Education Study Centre in Cairns.
"My motto for prospective students is ... don't act like a toad ... educate yourself and look sharp," he says.
Dr Hamey also encourages distance education graduates of CQUniversity's predecessor institutions - Capricornia Institute of Advance Education, University College of Central Queensland and University of Central Queensland - to keep in touch with the Alumni section via alumni-enquiries@cqu.edu.au .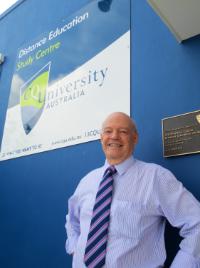 Dr Ray Hamey at CQUniversity's Distance Education Study Centre in Florence Street, Cairns