CQUni among sponsors for Festival of Lights in Rockhampton
Published on 04 October, 2012
CQUniversity is among sponsors for the Indian Association of Central Queensland's Diwali Milan 2012 Festival of Lights, scheduled for 5pm on Saturday October 13 at the Pilbeam Theatre in Rockhampton...
Those interested in an evening of Indian cultural events, fireworks and food can gain entry passes from various contacts including Margani Rao (0411 365 801).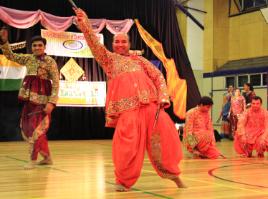 An image from the 2011 festival
Diwali is the biggest festival celebrated by all Indians and Nepalese. As part of this celebration, the Indian Association of Central Queensland is hosting the much awaited 'Diwali Milan' event, which brings people from different backgrounds together to celebrate.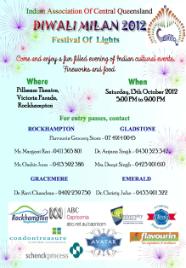 LINK for the event poster
This is one of the most successful events organised by IACQ and has attracted more than 750 people in and around the CQ region in the past years.
Diwali Night comprises an authentic Indian dinner followed by Indian music, Bollywood music, and Indian classical, folk and Bollywood dances.
Local politicians are expected to attend.