Annerley focused on a 'more sustainable' child protection workforce
Published on 06 June, 2013
Drawing on more than a decade of study and experience, Brisbane's Annerley Bates has focused on the best ways to build a sustainable child protection workforce in a segment of the social work and human service profession where attrition rates have been challenging...
Annerley's doctoral research involved interviews with recently qualified Queensland statutory child protection workers who had been on the job between three weeks and 12 months after graduating.
LINK also to Tessa travels from Adelaide to Sunshine Coast to celebrate graduation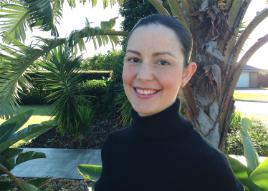 Annerley Bates has focused on a sustainable child protection workforce
She has detailed recommendations about nurturing and supporting new graduates through orientation, training, supervision, mentoring, debriefing and the provision of career pathways.
"I wanted to show how graduates from various disciplines transition, develop and sustain their practice from the role of a student to a professional in the first twelve months of clinical practice," Annerley said.
Due to graduate with a PhD at CQUniversity's Noosa Campus ceremony on June 13, Annerley has completed all of her social work studies by distance education. Her journey through the undergraduate and postgraduate programs has taken around 12 years.
Annerley's first job was in child protection and she subsequently worked as a counsellor for Relationships Australia before gaining her current role as a Senior Social worker at the Brain Injury Rehabilitation Service at the Princess Alexandra Hospital.
When she graduates, Annerley will have become the first Social Work student to progress through her bachelor, honours and PhD completely at CQUniversity.
Her PhD thesis was supervised by Dr Daniel Teghe at CQUniversity, and Professsor Sandy Taylor from University of Tasmania
Annerley's latest project is building a family of her own as she is expecting her first child later this year.
* CQUniversity's Noosa Campus Graduation will be conducted in the Events Centre at the Maroochydore RSL Club.