Once, twice, three times a poet!
Published on 02 August, 2012
Performance poetry is making a comeback in Rockhampton, with the help of CQUniversity Literary & Cultural Studies lecturer Dr Lynda Hawryluk and her Poetrio collaborators Kristin Hannaford and Paul Summers...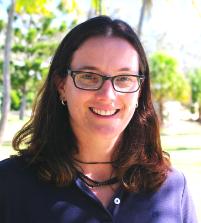 Dr Lynda Hawryluk's ready for her Poetrio gig LINK HERE for Poetrio artist bios and HERE for a Walter's Lounge website
Poetrio, described as 'three poets on the underside of an afternoon', will be among featured acts for the next Walter's Lounge event at Walter Reid Cultural Centre, from 2-5pm on August 12. Other acts include musicians and a stand-up comedian. Details and bookings are via 4924 5600.