Honorary Doctor of Performing Arts - Darrell William McInnes
Published on 17 February, 2010
William McInnes is a renowned Australian film and television actor and author who successfully completed a Bachelor of Arts through the then Capricornia Institute of Advanced Education in 1985 at the Rockhampton Campus and was known for being an active and involved student while on campus, at one stage organising the 'Festival of the Combine Harvesters'.
Equally at home in theatre, film and television, comedy and drama, William has had lead and supporting roles in some of the most successful and memorable Australian productions and has multiple AFI and Logie awards and nominations for his wide ranging body of work. In television, William has appeared in many series such as A Country Practice, Bligh, Ocean Girl, Snowy, Blue Heelers, Sea Change, My Brother Jack and The Shark Net to name a few. William also appeared in two episodes of Kath & Kim, as Sandy Freckle under the pseudonym 'Rock Hampton'. Film credits include The Heartbreak Kid, Dirty Deeds, Look Both Ways and Unfinished Sky, for which he received an AFI Award and a Film Critics Circle of Australia Award for his performance in 2008.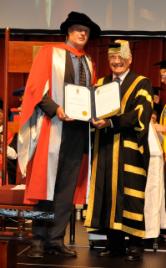 William McInnes receives his award
His many lead roles on the stage further highlight William's remarkable career. His performances include Don Juan with the Sydney Theatre Company, Macbeth and Ray's Tempest with the Melbourne Theatre Company and Darcy for both companies' landmark production of Pride of Prejudice. Most recently William appeared on stage in New Zealand in My Fair Lady.
In addition to his success in the acting industry, William has also released three books: A Man's Got to Have a Hobby, Cricket Kings and That'd Be Right.
William McInnes is a prominent alumnus whose success since leaving university is testament to how studying at a regional university can help to enable pathways to a successful future in the most competitive of fields and I have much pleasure, Mr Chancellor, in asking you to confer on Darrell William McInnes the degree of Honorary Doctor of Performing Arts.