Inspirational author to visit Rockhampton Campus
Published on 06 October, 2011
Inspirational author and professional development coach Stephen Chong will visit CQUniversity Rockhampton's Bookshop to promote and sign his latest publication, The Music of the Soul.
The Music of the Soul is described as 'a pathway to a rich and fulfilling life'. Stephen is also known as the author of The Book of Testaments, which is a practical guide for spiritual realisation.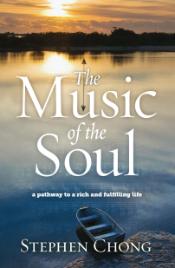 The book cover for 'The Music of the Soul'
The Cairns-based author will be at the Rockhampton Campus Bookshop from 2pm on Friday, October 7.
More background is available via www.stephenchong.com.au/ or LINK HERE for more details from the Bookshop.
Stephen is currently working on his third book of motivation and inspiration, Letters Across Time.
You can keep an eye on forthcoming Bookshop events via http://bookshop.cqu.edu.au/I_Events.asp .