Sculpted Reef: Arthur Clark's marine passion
Published on 17 August, 2005
Who would have thought the humble 'turpentine' mango could look like this? Arthur 'Nobby' Clark, a Bundaberg wood carver, has transformed unused timber from discarded mango trees into a rich tapestry of glowing marine life – you can almost feel them move.
About two-thirds of Mr Clark's magnificent collection of sculptures, Denizens of the Deep, is now open for public display at CQU Bundaberg.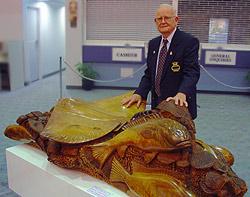 The exhibition was formally opened on Monday night by Mr Austin Whittaker, a long-time friend of Mr Clark's.
Huge life-sized sharks, rays, estuary and potato cods and a green turtle provide the centrepieces for a fabulous array of corals and smaller fish; the diversity being a realistic reflection of our well known coral reef ecosystems.
Guests at the opening were amazed to hear that the local 81-year-old produced such intricate and realistic representations of reef life without ever having gone snorkelling or diving himself.
"I can't even swim!" Mr Clark enthused, "but I've done a lot of research to ensure that my carvings are true to life.".
Having first imagined the beginnings of his reef collection in 1985, a scant two years after he retired and first dabbled with woodcarving, it took Mr Clark six years to create the finished pieces. His work has earned many awards and accolades and has been exhibited both nationally and internationally.
Guests at the opening marvelled at the intricate work and determination involved in creating such an exhibition. Mr Clark created and adapted various tools to enable him to fashion the affects he desired. Carving the textures of different corals was a particular challenge unable to be met with the use of traditional tools.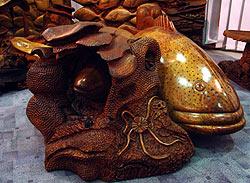 "When he gets a new piece of timber, he will spend the first three days just sitting and looking at it from all angles," Mr Clark's wife Betty explained. "As soon as he picks up his pen, I know he's away," she said. No preliminary sketches are drawn, only a chalk line on the timber to mark the spine of the dominant animal in the carving.
Mr Clark's desire for the collection to remain Australian, and preferably in Queensland, will hopefully be realised in the near future with plans to build a new marine interpretive centre in Bundaberg.
* Special thanks to Jodie van de Wetering of ABC Radio Wide Bay for the use of her photographs.