Students take part in industry engagement, showcase projects
Published on 24 October, 2012
Mackay engineering students enrolled in the Engineering Skills 2 course at CQUniversity have benefited from a networking event, enabling them to present industry projects to external stakeholders and CQUniversity staff.
The first-year students have been involved with several industry projects with local clients or industry stakeholders who have been supervising the projects, along with CQUniversity's Senior Lecturer in Engineering Dr Arun Patil.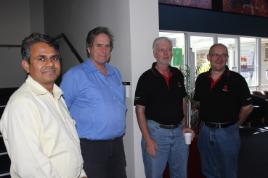 Mackay CQUniversity Senior Lecturers for Engineering Dr Arun Patil and Brendan Donnelly with Reg Millet and Peter Foley from Engineers Australia. As part of the submission requirements, students must present their final project outcomes for feedback from industry clients involved in the project.
The presentation was attended by local members and executives of Engineers Australia (EA) including chair Peter Folley, as well as engineering and academic staff at CQUniveristy.
The event, coordinated and organised by course coordinator Dr Patil, provided benefits to both students and the University.
"The presentations provided wonderful opportunities for our students and staff to interact with industry stakeholders and also to showcase first-year students' projects," Dr Patil said.
First-year Engineering students from Gladstone and Rockhampton also presented their project findings in the presence of several industry clients and stakeholders.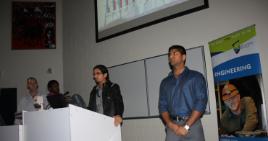 Mackay Engineering students Anthony White, Tony Maggi, Sasmit Dahal and Manpreet Singh present their projects.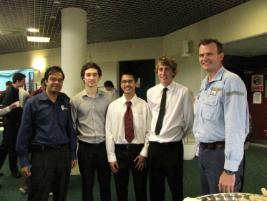 Gladstone CQUni lecturer Ashfaque Chowdhury with students Corey Hughes, Christopher Doring and Reuben Smith and Ben Hayden of NRG Power Station.