Alumnus Tiziana recalls mingling with Princess on campus
Published on 01 April, 2010
Alumnus Tiziana Zorzi's long association with our institution harks back to the 1970s when she was among Student Association executives who had the chance to mingle with Princess Alexandra, when Her Royal Highness visited to open the Rockhampton Campus Library.
Now based in the USA, Tiziana was recently visiting relatives in Yeppoon with her husband and family, and took the opportunity to retrace her steps at the Rockhampton Campus.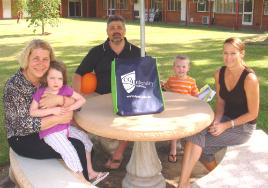 Tiziana Zorzi (left) with husband Tony and children Daniella and Alex, meeting with CQUni's Jo Nitz
Graduate Relations Manager Jo Nitz and Student Association President Brendan Kirkman were able to bring her up to speed with recent developments, adding to Tiziana's long association with and interest in CQUniversity and its Alumni Association.
She was astounded to see the changes to the campus as the last time she visited was in the mid-1980s.
Tiziana attended our predecessor, the Capricornia Institute of Advanced Education (CIAE) from 1977 to 1981, and graduated with a Bachelor of Arts Degree.
During her time at CIAE, she was elected to the Student Association Executive (in 1978) as Functions Officer and organised many campus events.
The keen student representative has clear memories of Capricornia College and events such as Prank Week, Orientation Week, cabarets, movie nights, scavenger hunts and all the fun of each department's ball.
She remembers the Student Association Executive members were invited to afternoon tea with Her Royal Highness Princess Alexandra at the Student Association building, while the Princess was on campus to officially open the Library.
Tiziana moved from Rockhampton to Brisbane with her employer, Telecom Australia, later to become Telstra, in the latter part of 1981. Married in 1994 to Tony Houweling, the couple moved to the USA in 2001 with an international transfer by Lucent Technologies.
Prior to their departure, Tiziana helped to organise and served on the Executive Committee of the Brisbane CQU Alumni Association. She served 2 years on the Brisbane Association and helped organise many local functions and events.
The active alumnus has continued to monitor the comings and goings of CQUniversity events through emails, magazines and friends.
She encourages all graduates to maintain links with CQUniversity and urged the institution to continue to highlight achievements of its alumni, through multiple media channels.
"I'm sure that many of us have gone on to achieve our goals and some no doubt have reached great heights within their chosen field or profession. These are news stories that should be shared with all the CIAE/CQUni community members - and that means graduates from the early years to the most recent years," she said.
"I know that many past students would love to hear from past friends and colleagues. As for myself, I often wonder what has happened to many of my tutors and professors."