Angela loves her Kindle surprise
Published on 31 May, 2012
CQUniversity Mackay student Angela Newman is on a good luck streak after having several exciting things happen to her this week.
The third year psychology student was the winner of an Amazon Kindle electronic reader, after taking part in the CQUniversity Library Client Survey.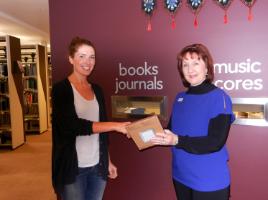 Psychology student Angela Newman, with CQUniversity Mackay Library Manager Pauline McNee, was the winner of a Kindle electronic reader as a result of taking part in the CQUniversity Library Client Survey. Adding to her excitement, Angela announced that she recently got engaged to her partner as well as finishing a major assignment for the year.
Angela said she enjoyed visiting the CQUniversity Mackay Library because it was modern, fresh and a relaxing place to study.
"I spend a lot of time in here and there is a lot of space to study," she said.
"I like the quiet areas and I think it has some great resources."
The Kindle will allow Angela to shop, download and read e-books, newspapers, magazines, blogs and other digital media via wireless networking.
Ten students across CQUniversity campuses in Australia were awarded the Kindle for taking part in the Library Client Survey, with the results from all surveys helping to improve services and resources at libraries across the university.