CQUni lecturer streets ahead, wins Nurse of Year award
Published on 18 May, 2012
Congratulations to CQUniversity Noosa lecturer Nicholas Ralph who has won the Australian Nurse of the Year (Innovation in Nursing) award of $10,000, thanks to his concept for a multi-functional Mobile Clinical Learning Unit for the Sunshine Coast...
Mr Ralph was announced as the HESTA* Australian Nursing Awards 'innovation' winner during a ceremony at Melbourne's Crown Entertainment Complex, on Thursday evening (May 10).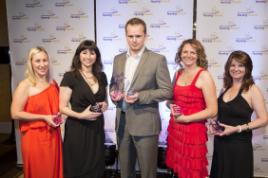 Nicholas Ralph at his presentation ceremony
He'll get to spend his prizemoney to help develop his mobile unit.
The design includes simulation spaces where health professionals can sharpen their skills.
The M-CLU will also visit schools, shopping centres, sports grounds and public parks to give participants a taste of the opportunities a career in health can offer.
Mr Ralph believes the unit can aid efforts to tackle a looming skills shortage in a region that will require 50,000 new health professionals over the next 20 years.
It also has huge potential for remote areas such as mining towns, where initiatives like this are of great value to the community.
"The aim of this initiative is improve healthcare in the region - whether it be through opening up career opportunities in health to the public, upskilling the regional health workforce or improving the health of our communities using health promotion strategies," Mr Ralph said.
Mr Ralph plans to use the development grant prizemoney provided by ME Bank to undertake an evaluation of the mobile unit to improve its usefulness to the community.
*HESTA is one of Australia's largest superannuation funds.