Data mining textbook adopted early
Published on 18 July, 2007
A new textbook on 'data mining' by academics from the School of Computing Sciences has been adopted by several Australian universities soon after its publication.
Just as traditional miners sieve for gold, data miners can draw treasured information from large datasets.
The textbook - 'Data Mining: Methods and Techniques' - is by Dr ABM Shawkat Ali and Associate Professor Saleh Wasimi and has been published by Thomson Learning.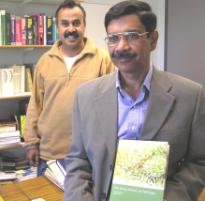 Dr ABM Shawkat Ali (left) and Associate Professor Saleh Wasimi
According to the publisher, the introductory textbook introduces the mathematical and statistical aspects of data mining in a simple and clear fashion, in order to cater for students who do not have a background in these areas. It is suitable for both business and computer science students.
It is also appropriate for courses within a wide range of disciplines including engineering, economics, statistics, information systems and information technology.