'FOGs' lift aspirations in Rockhampton
Published on 23 August, 2012
CQUniversity Nulloo Yumbah staff, Ashley Jamieson and Robina Mann attended the Indigenous Employment and Careers Expo at Rockhampton Showgrounds recently.
The Expos are hosted by Former Origin Greats known as FOGs. The 2012 event was the third Expo to be held in Rockhampton.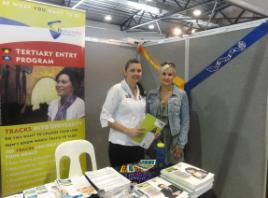 Psychology student Abby Louis (right) helps Ashley Jamieson on the CQUniversity stand
About 520 students from 17 State, Catholic and Independent high schools attended the Expo, which was held to help bridge the education and employment gap between Indigenous and non-Indigenous Australians.
Former Origin Greats is made up of current and past Queensland State of Origin rugby league players. This year, FOGs are celebrating the late Arthur Beetson's correct prediction of seven consecutive State of Origin wins. On the day, FOGs including Alan (Alfie) Langer, Jharal Yow Yeh, Steve Price and Matt Sing talked to students about education and employment opportunities.
"The CQUniversity stall received a great response from high school students and the community," Ms Jamieson said.
"The majority of the high school students were interested in the Start Uni Now (SUN) program. The recent University decision to make this program available to Year 10 students has definitely made an impact on the high schools, with at least eight prospective SUN students intending to commence in 2013."
In her role as Student Community Liaison Officer at Nulloo Yumbah, Ms Mann said, "I found the Expo to be a great opportunity to promote CQUniversity to all ages, from Year 8 through to the Elders of the local Indigenous community".